Last Updated on 07/30/2022 by Desmond
As the tea birthplace, China is various in teas. Some of them naturally have better flavor and quality. So, there is a saying about "Top 10 Famous Chinese Teas", and you might see some related lists online. However, tiny differences are between each version, and which one is the correct?
And, what if I told you that all of them are not inerrability?
5 Popular Versions
Being called a famous tea, not only means it has the greatest fame but also with excellent quality. So once a tea can get into the honor of the top 10 famous teas list, it brings lots of benefits, especially to the economic development of the origin. Due to this come many different list versions.
In fact, there is never a specific list of the top 10 famous Chinese teas from the China official. All those versions are created by folks and the media themselves. Here are 5 popular versions: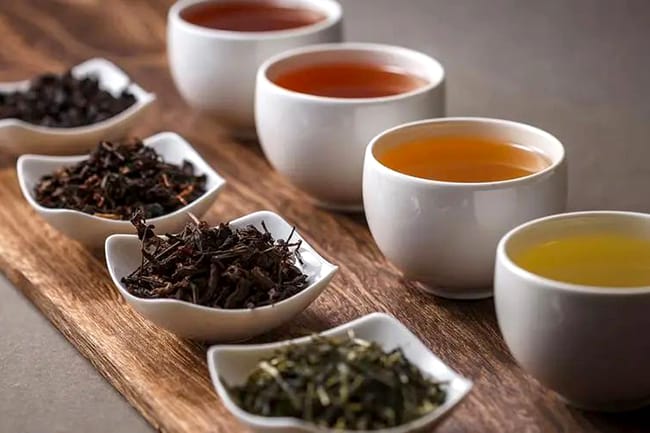 The 1915 Panama–Pacific International Exposition Version
A popular saying is that the top 10 Famous Chinese Teas List was birth at the 1915 Panama–Pacific International Exposition. At that time, Chinese teas showed extraordinary talents and won many prizes(44 totally.) Most importantly, helping Chinese teas regain an edge in export competition with emerging tea-producing countries such as Japan, India, and Sri Lanka; it meant a lot for China during that wartime.
Nowadays, many merchants consider that 10 teas won the prizes at the 1915 Exposition, and take it as a promotion; here is the list:
Tanyang Gongfu
Dongting Biluochun
Xingyang Maojian
Xihu Longjing Tea
Junshan Yinzhen
Huangshan Maofeng
Wuyi Rock Tea
Keemun Black Tea
Duyun Maojian
Lu'an Gua Pian
But the truth is, the Chinese teas that won the highest prizes at the 1915 Exposition, were all took part as their origin id. And those which won the secondary awards were products provided by private tea merchants. All of them were without a specific name(except Keemun Black Tea) and just described as black tea or green tea. Besides, most prize-winning tea merchants were closed during the later war, and their excellent products no longer exist.
Thus, although the saying about the top 10 famous Chinese teas was considered traceable from the 1915 Panama–Pacific International Exposition, any lists based on it should not be regarded as authoritative.
The 1959 China Agriculture Ministry Meeting Version
In 1959, 10 years after the founding of new China, the Agriculture Ministry held a meeting to discuss how to increase tea production. And an authoritative version(by many people) was said that was from this meeting; here is the list:
Xihu Longjing Tea
Dongting Biluochun
Huangshan Maofeng
Lushan Yunwu Tea
Lu'an Gua Pian
Junshan Yinzhen
Xinyang Maojian
Wuyi Rock Tea
Anxi Tieguanyin
Keemun Black Tea
But according to the recall of the relevant person, China was in the Great Leap Forward period at that time, and the main content of the meeting was only to discuss how to increase tea production, but didn't vote on the so-called top 10 famous teas.
The 1982 Famous Chinese Teas Appraisal Meeting Version
In 1982, the China Commerce Ministry held a famous teas appraisal meeting, also for tea production increasing purpose. 30 types of teas were voted as the best at the meeting. The result was sent to every newspaper media for publishing, but many newspapers only published the top 10 ones; they were:
Xihu Longjing Tea
Duyun Maojian
Xinyang Maojian
Dongting Biluochun
Huangshan Maofeng
Wuyi Rock Tea
Tieguanyin
Junshan Yinzhen
Lu'an Gua Pian
Keemun Black Tea
Although the primary purpose of the meeting was not to vote on the top 10 famous teas, this version was regarded as the most authoritative one. However, China government forbade any product appraisal comparison later, and similar official activity was no longer held.
The 1999 Liberation Daily Version
In 1999, The official department newspaper, Liberation Daily, published a top 10 famous teas list:
Jiangsu Biluochun
Xihu Longjing Tea
Huangshan Maofeng
Lu'an Gua Pian
Enshi Yu Lu Tea
Fujian Tieguanyin
Yunan Pu-erh Tea
Fujian Yun Tea
Jiangxi Yunwu Tea
Although the Liberation Daily has a certain official relation, it didn't announce any appraisal comparison details, and itself is not a tea-related organization. So the list lacks enough authority.
The 2001 Associated Press & New York Times Version
It was said that on 26th March 2001, the Associated Press and New York Times published a Top 10 Famous Chinese Teas list:
Huangshan Maofeng
Dongting Biluochun
Xinyang Maojian
Xihu Longjing Tea
Duyun Maojian
Lushan Yunwu Tea
Lu'an Gua Pian
Anxi Tieguanyin
Suzhou Jasmine Tea
Although the list content is similar, it can't be said with any authority and reference value because it was from the overseas media. And I can't find any accurate report because it was long ago. (it will be a pleasure if you provide the link in the comment)
10 Types of Teas That With Most Mentioned
Although there isn't an exact list of Top 10 Famous Chinese Teas, it won't affect our yearning for Chinese teas. In those 5 different versions, some tea types always have a place, and we can consider that they are universally accepted famous teas. They are:
1. Dongting Biluochun
Type: Green Tea
Origin: Jiangsu Province
Many regions in China produce Biluochun, but only the one from Dongting Mountain, Taihu Lake, is regarded as the most authentic. Dongting Biluochun is famous for its robust fruity aroma, also called "Xiang Sha Ren Xiang(too fragrant to shock people)" Its leaves are helical, such a unique appearance attracts people more. Emperor Qianlong used highly evaluated this tea, so Biluochun always had great fame.
Learn more about Biluochun here.
2. Xihu Longjing Tea
Type: Green Tea
Origin: Zhejiang Province
Longjing Tea from West Lake, Hangzhou, is another world-famous Chinese green tea. It has a delicate aroma and a fresh flavor. The best Longjing is made from the leaves that pick before Qingming(5th, April). It's hard to get because of the poor yield, and also not easy to preorder. Of course, the secondary ones also have worth trying.
Learn more about Longjing Tea here.
3. Huangshan Maofeng
Type: Green Tea
Origin: Anhui Province
There are many teas called Mao Feng in China. They refer to teas grown on high mountains, with white fuzz on the leaves. Among them, Huangshan Maofeng is the most famous, and some tea merchants also translate it as Huangshan Fur Peak Tea. Its leaves look like the bird's tongue, every leaf has a small unexpanded piece of yellow leaf beside, which is called the "golden piece." Huangshan Maofeng has a delicate plant, orchid-like aroma.
Learn more about Huangshan Maofeng here.
4. Lu'an Gua Pian
Type: Green Tea
Origin: Anhui Province
Unlike other excellent Chinese green teas, Lu'an Gua Pian is made from the second leaf on the branch, without any buds and stems. Its leaves look so unique; they are flat, integrity, and of the same size, look like the melon seed(an Eastern Hemisphere traditional snack), so it got the name. Lu'an Gua Pian has a strong flavor because it is made from relatively mature leaves, and with an obvious orchid and roasted chestnut aroma.
Learn more about Lu'an Gua Pian here.
5. Xinyang Maojian
Type: Green Tea
Origin: Henan Province
Although called Maojian tea, Xinyang Maojian is not always made from tender buds. Unlike most Chinese green teas, Xinyang Maojian has a strong flavor, with a distinct roasted aroma, tastes fresh and brisk, and has deep astringent but also a sweet aftertaste. The local folks like to prepare Xinyang Maojian in a high-concentration infusion, the proportion of leaves and water is usually high to 50:50.
Learn more about Xinyang Maojian here.
6. Junshan Yinzhen
Type: Yellow Tea
Origin: Hunan Province
Yellow tea is rare, and Junshan Yinzhen is the most famous one. Junshan Yinzhen is made from the tenderest buds, leaves show yellow and green, with lots of fuzz cover on the surface, so it is also called "gold inlaid with jade." Due to it having been in a special "sealing yellow" processing, Junshan Yinzhen got a mature grain aroma. It tastes weak, with a little astringent, but has a fresh and brisk mouthfeel.
Learn more about Junshan Yinzhen here.
7. Duyun Maojian
Type: Green Tea
Origin: Guizhou Province
Duyun Maojian tea has always been called "fishhook tea" in history because of its unique appearance. One saying is that the "fishhook" call was named by Emperor Chong Zhen, and the Mao Jian call was named by Chairman Mao. Duyun Maojian is made from the bud to the first leaf, with much tiny fuzz covered on the surface, so it tastes fresh and brisk.
8. Wuyi Rock Tea
Type: Oolong Tea
Origin: Fujian Province
Wuyi Rock Tea does not refer to a single tea but the Oolongs that originate in the Wuyi Mountain region, Fujian, which has a deep "rock flavor." Wuyi Rock Tea has 5 primary subtypes: Da Hong Pao, Ming Cong, Rou Gui, Shui Xian, and Qi Zhong.
Learn more about Da Hong Pao here.
9. Anxi Tieguanyin
Type: Oolong Tea
Origin: Fujian Province
Tieguanyin can be regarded as the most popular Oolong in China; almost all the tea shops and restaurants will provide it. Its picking standard does not focus on the fresh degree, primary select the bud to the third or fourth leaf, so it harvests all year round, and gets an affordable price. Tieguanyin is typically classified into 4 types: Qingxiang Flavor, Strong Flavor, Roasted, and Aged.
Learn more about Tieguanyin here.
10. Keemun Black Tea
Type: Black Tea
Origin: Anhui Province
Keemun black tea is the only black tea mentioned by multiple "top 10 famous Chinese teas" versions. It was also the only tea with a specific name and won the prize at the 1915 Panama–Pacific International Exposition. Keemun black tea has an intensely fruity and orchid aroma, tastes mellow, with a little astringent but will not make any bitter.
Learn more about Keemun black tea here.
Why Did Pu-erh Tea Never Get Into The Top 10 Famous Chinese Teas List?
Compare each version, and you might be surprised and find that Pu-erh tea was only mentioned once in the 1999 Liberation Daily version.
According to the traditional classification, people use to classify Pu-erh tea as Dark Tea. In ancient China, dark tea was also called "border-sold tea," which means it was only provided for the far border regions or oversea; Liu Bao Tea and Zang Cha are the well-known ones. These teas will take post-fermentation processing and be compressed into tea cakes or bricks to satisfy the long journey.
According to the traditional loose-leaf tea standard(the raw leaves' fresh degree, aroma, etc.), dark tea absolutely gets a low score. That's because it was only for border sold. So in the past, Pu-erh tea wasn't welcome by the Chinese, people didn't know it much, and its fame was also much less than today.
Pu-erh tea began popular during 1950-2000, starting from commercial speculations in Hong Kong and Taiwan.
One property of Pu-erh tea is that the longer it ages, the better flavor it gets. At that time, aged Pu-erh tea prices rose high, and the new ones were also becoming popular. But most people didn't buy it for drinking; they stored the teas waiting for their value to rise.
Of course, it also brought an advantage. Tea merchants started producing higher quality Pu-erh, focusing more on the raw leaves quality, processing, and aging methods(most Ripe Pu-erh teas will age for 1-3 years before selling.) After the price bubble burst, people also began to appreciate Pu-erh tea's charm but no longer only regarded it as a collection.
Another explanation is that most traditional Chinese tea experts saw it as a freak because of Pu-erh tea's different evaluation standards. So it never got into the Top 10 Famous Chinese Teas List. Just like the Oscar didn't accept superhero films and streaming media before.
At Last
Even though the Top 10 Famous Chinese Teas is just a promotion stunt made by merchants, there is no denying that each tea in the list can fully express Chinese teas' excellent quality. Besides, there are also many amazing teas in China except those on the list. Such as Yingde Black tea, and white teas like Baihao Yinzhen, which are great on the brisk mouthfeel; all of them are worthing trying.