Last Updated on 09/06/2019 by Desmond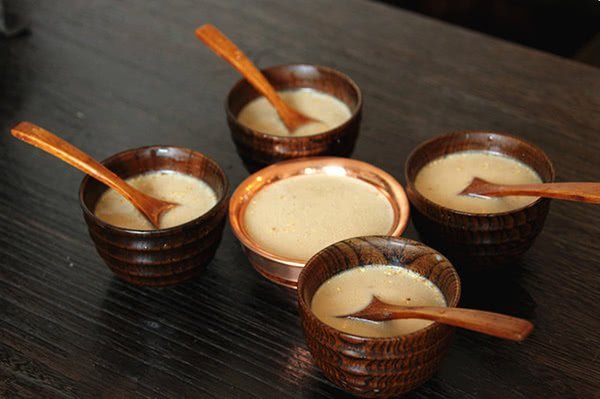 Mongolian milk tea is a traditional Mongolian drink. Mongolians generally call it "Suutei Tsai "milk tea, also known as Mongolian salty tea.
As the Mongols are a nomadic people, they are hard to get fresh food, milk tea has become an important way for them to obtain nutrition.
Some of the materials used to make Mongolian milk tea, such as beef jerky, Fried rice grains, and brick tea, are dehydrated or fermented to make them easier to preserve.
Homemade Mongolian milk tea recipe
Step 1. Put the pre-prepared broken brick tea into a mesh bag, bring the water to a boil, put it into the pot, and cook it over a warm heat for about 5 minutes. The ratio of tea leaves to water will affect the concentration of milk tea. The recommended ratio is 1:80, which can be adjusted according to personal taste.
Step 2. Add the moderate amount of milk to continue to cook. The ratio of tea juice to milk is recommended to be 2:1 so that the milk tea will be more fragrant. The ratio of milk to tea can also be adjusted at will.
Step 3. After the milk tea boils, add beef jerky, Fried rice grains, butter, salt, and other seasonings.
Step 4. Keep stirring the boiling milk tea, scooping it up with a spoon and then pouring it back in from a height (this is an important step). It will allow the tea to mix well with the milk, giving off the maximum aroma. When you feel the aroma is strong enough, you can stop cooking.
Then it's the milk tea time. The fragrant smell of milk coming first, and the first taste is full of tea's aroma. Golden Fried rice grains like stars dotted on the surface of milk tea, let a person salivate, savor, feel the mellow and salty taste. The boiled beef jerky, although not as tough as before, but also do not lose chewy.
Effects of Mongolian milk tea on health
As can be seen from its ingredients, Mongolian milk tea is very rich in protein, vitamins, and sugar, plus the caffeine contained in the tea itself, it can bring great energy to the human body.
Mongolian herdsmen take beef, mutton, and dairy products as the staple food; whole grains, vegetables, which are difficult to get, so make them as the supplementary food.
Because dairy products provide the same vitamins as fresh vegetables, Mongolian milk tea has become an important part of dietary habit for them, which is an important way for them to supplement the nutrition needed by the human body.
Every morning, the first thing a Mongolian housewife does is cook a pot of Mongolian milk tea. Drink hot tea, eat Fried rice grains, and then put the remaining of milk tea on a small fire, keeping it warm for drinking any time.
But for ordinary people, because of different living environment and habits, long-term drinking of Mongolian milk tea, intake of excess calories is easy to cause obesity. What is serious, also can cause hyperlipidemia, hypertension and other cardiovascular diseases.